Recorder Plus is designed and implemented to support the following kinds of external input:
External mic
Line in
Bluetooth input
USB audio
We can not test all kinds of external input because lacking of so much devices. But we want to help users who are interesting in external input device which is working well with the app. So we maintain this list. Information of this list are all from the user's feedback. Just for your reference only.
If you have external input devices which is not in the list, just connect it to your iPhone/iPad, then launch the app. If the app can recognize the input device, it will set the input device as default input to override the builtin mic. No extra setting is necessary.
If multi input devices are recognized by iOS and available to Recorder Plus, you can change default input by this button (Figure 1) when recording is going on. Maybe the input you selected would not work immediately, it will be the input next time you start a recording.
Figure 1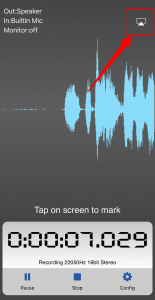 If you are pleased with the result, please inform us so we add the device to this list to help other users. Thank you!
Contact us
(1)External mic
Tascam IM2, iRig Mic,
(2)Line in
Griffin iMic USB adaptor and CCK(Camera connection kit)
Line6 MOBILE IN iPad/iPhone interface
(3)Bluetooth input
As far as we known, all bluetooth earphone with mic which can be paired with iPhone/iPad can be used as the input device
(4)USB audio
Apogee Mic 96k,
Shure MV88,
Zoom iQ6  (support stereo recording)
Zoom iQ7  (support stereo recording)