In Recorder Plus you can make some simple but powerful audio effect process.
These audio effects are:
Fade in/out, Tempo, Pitch, Silence, Gain (including normalize), Noise reduction.
To make the audio effect process, first select the audio part you want to process
Then tap "effect" in the shown menu.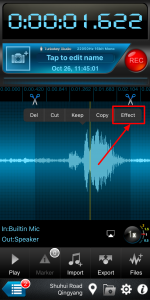 In free version, you can preview the effects,  to process and replace, you need to subscribe to the professional pack.
Following these instructions to subscribe:
In App Store, find Recorder Plus, or use this link to go to the app page:
https://itunes.apple.com/app/id502271511
then subscribe in the in-app purchase item list. It's about $5/year.
Then in Recorder Plus, tap "i" button on the right-bottom of the screen, then "Restore" to active the effect feature.