Recorder Plus is not only an audio recorder, bust also a non-destructive audio editor.
Which means it will never modify the original recording file when you edit the recording (e.g. paste, cut, rec:ins, rec:ovr).
And you can always undo/redo changes by "undo"/"redo" in the shown context menu. (Figure 1)
Figure 1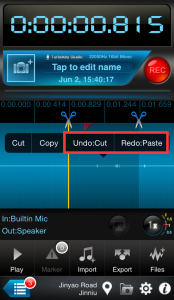 And if you have made many steps of edit and think: it's really a mess, I just want the original file back!
You can always do that very easily by tap "Files"->"Append original files at the end" (Figure 2)
Figure 2