When there is no enough disk space (smaller than 300M) on device, Recorder Plus will show a warning message like this: "Only *** disk space available."
Users can check how much disk space was used and how much was left in the recording list page.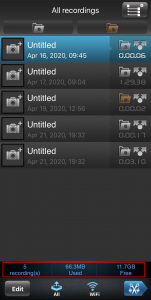 Users should manage their iPhone/iPad to get more free disk space so that Recorder Plus can work properly.
First, make sure important data has been backup to PC/iCloud before delete/remove.
How to back up your devices using iCloud or iTunes
The following are suggestions about how to get more free disk space on your iPhone/iPad. (Reference from Apple's official instructions)
1.See how much storage you've used on your iPhone, iPad, and iPod touch
Then you know which app is useless and should be deleted. Always remember backing-up useful date in the app before delete it.
2.Reduce the size of your Photo library by turning on iCloud Photo Library and Optimizing your device storage