Users can make a simple video with Recorder Plus.
The following is an example in a meeting scenarios:
Make an audio recording with Recorder Plus.
Take a photo as front cover,also you can add a title by tap the edit box which is  shown as "Tap to edit name"  (Figure 1.1)
Tap on the waveform, select "mark" in the shown context menu to add marker to the recording. In the example, we add 3 markers: (0) Tom speech, (1) Mike speeck, (2) Jessica speech (Figure 1.2)
Tap the "Marker" button to shown the marker page. (Figure 1.3)   In marker page add photo and text description for each marker.
Tap "Export" –> "Photo Album" to export the recording as an video. Then you can find the video in your iPhone/iPad's photo album.
Figure 1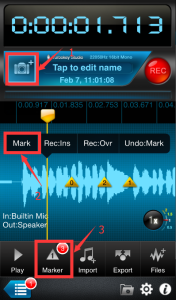 The video file can be exported from Photo Album to PC/Mac.
On PC/Mac, it can be playback by Apple's QuickTime Player.