Tap "Export"->"iTunes sync" to export recording with iTunes.(Figure 1)
Figure 1
Connect iPhone/iPad to PC/Mac with USB wire, then launch iTunes on PC/Mac
Select iPhone/iPad in iTunes. (Figure 2.1)
Select "Apps". (Figure 2.2)
Scroll the right pane down (Figure 2.3) to the "File sharing" section. (Figure 2.4)
Select "Recorder Plus". (Figure 2.5)
Select exported recording files. (Figure 2.6)
Save files to PC/Mac. (Figure 2.7)
Figure 2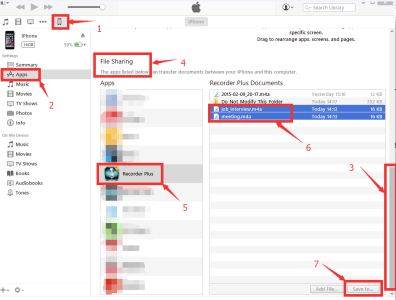 Sometimes there is a bug in iTunes, and the "save to" button in Figure 2.7 would be invisible.
In this situation, select a single file in Figure 2.6, then press Ctrl+a on the keyboard to select all files (on Mac this can be done with Command+a), then drag all files to File Explorer (on Mac drag all files to Finder).
A trick to export all recordings with iTunes:
Tap "Export all recordings to Google Drive". (Figure 3)
When the mixdown process end and started to uploading, tap "cancel" to end uploading.
Then you can get all recordings in iTunes.
Figure 3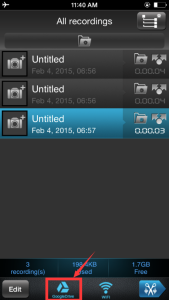 In rare situation, an error "the required file cannot be found" will be shown and the folder can not be copied.
Please consult this article: