When iPhone/iPad and your PC/Mac are in the same WiFi network, recordings can be exported to PC/Mac without any wire connected.
Tap "Export"->"WiFi" button. Then input the URL the App shown(something like: http://192.168.*.*:8080) in the computer browser(IE, chrome , safari, firefox etc) to download single recording. (Figure 1)
Do not tap the "Close connection" button to close the message before file is downloaded.
Figure 1
In the "Recording management" page, tap the "WiFi" button to download all recordings. (Figure 2)
In the shown web page you need to download recordings one by one.(Figure 3) That's a little inconvenient.
To export all recordings with a single tap, reference: Export all recordings
Figure 2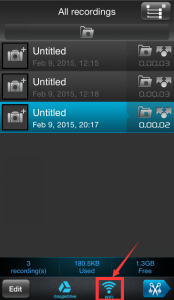 Figure 3