All recordings are extremely important!
But they may get lost in these situation:
Recordings are deleted in mis-operation or the app is deleted in mis-operation.
iPhone/iPad is restored without backup.
iPhone/iPad is broken or lost.
Maybe you think the odds are rare, but we do receive emails for help in these super disaster situation every week!
And we always feel very bad to reply that it is impossible to get these files back if iPhone/iPad had not backup before the disaster happen.
Starting from V3.2, there are three features to ensure the safety of recordings. (And all these features are available even in free version of Recorder Plus! )
1. There will be a backup copy for each original recording file in "iCloud drive/Recorder Plus Files". Users need not to do any extra settings because all settings are set properly in default.  But if the settings are not set properly in any reason.  The app will show a guide to help users setup manually. (Config iCloud and cellular(4G/5G) network properly)
2. Set iCloud as preferred storage
3. Backup recordings automatically with Google Drive.
If  any one of feature 2,3  was set , then feature 1 will stop working to save iCloud space.
If features 2,3 were both set, they will both work to provide double guarantee of safety.
And we strongly recommend users to backup recordings automatically with Google Drive because this feature will never delete original files even when users delete recording in the app.
Instructions:
1.Tap the "Gear" button to setting page.
2.Log in your google account.
Then all original recordings will upload to your Google Drive automatically and you can always get your original recordings when bad things happen.
And you can always check the upload status in the footer section. If all files were uploaded, the status would be "Done, all in RecorderPlus".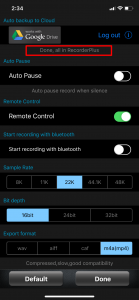 More detail information about this feature:
The uploaded file is the original file, not the edit file (modified by cut/paste).
Recorder Plus will only backup recordings to Google Drive by WiFi network. The uploading stop when only 3G/4G is available.
Recorder Plus will backup recording when the app is in use (recording, playing, or be shown on the screen).
This feature backup recording files, and do not backup imported files.